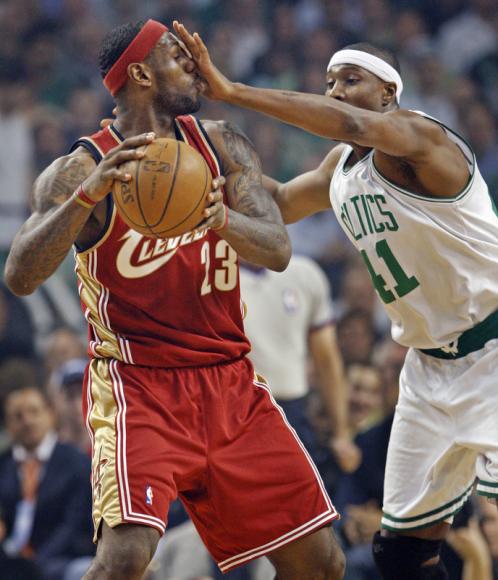 "It's only business!"
By: Da Boston Clover G

The New Orleans Hornets and the Boston Celtics meet up for the first time this season tonight. This is not only going to be a measuring stick for both teams with championship ambitions, but this is the first time James Posey returns to the TD Banknorth Garden, since his one year championship stint with the Boston Celtics.

Posey says he's departure was just business, and for a 31 year old NBA journeyman, it was the right thing to do. Posey said in a recent Globe article, "It was tough. But at the end of the day, it was just a business decision and everyone understands that."

Was that really the case? I think the players all understand that but what about the fans? A lot of people up here in the North where I live call Posey a "whore" and "the dancer of champions," freely going from team to team to win titles. "Betrayal" comes to mind. Still you must admit one thing, we loved the clutch shooting that Posey brought to our bench. I always got pumped up when he did his pre-game talk with all the starters getting them psyched before taking the floor and his key defensive plays that gave us so many reasons to celebrate. He is deserving of the title 'Super Sub!'….but Boston got the "Super Snub"!

We shall not dwell no more. It's the 2008-2009 season we have picked up were we left off…..WINNING! With a 21-2 start and everybody playing like there supposed to be…who needs Posey? It may look like we don't today….but down the stretch of the season after the 2009 All-Star game in Phoenix we will see how the season has worn on our young bench. Did last years championship give Eddie House the "Pose(y)" he needs this year to fill the veteran void? Can Tony Allen stay healthy and play tenacious defense against marquee players during crucial playoff games? Time will tell…

When the Hornets come to town tonight James Posey will finally get the championship ring he deserves. All in all, his arrival will be nice and he will probably get a clap or two but deep down inside there will be bitter fans waiting for the Celtics to get there fly swatters out and kill those pesky Hornets! Hey James don't take it heart it's only business!

To The Readers…Beast On!