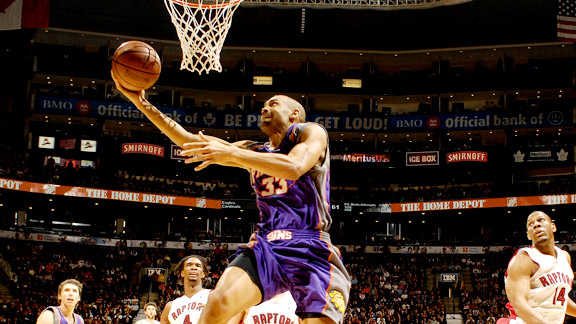 Let's talk free agents! Now that Rasheed is in green, we can turn our attention to Grant Hill. Now, realgm is reporting that Hill is "very serious" about the possibility of signing with the Knicks for next season. Now, there is no reason in hell why an NBA vet who hasn't won a ring yet would choose the Knicks over the C's. Hill is coming way out of left field here with his statement. The only reason I can even remotely think Hill would go to the Knicks is because his wife wants to live in NYC. It is not my place to get involved in the Hill's personal lives, but I will say this; Grant, I promise that you will not regret coming to Boston if you do indeed decide to. You will come the closest you have ever come to winning it all, and the fans of Boston would welcome you with open arms. Another rumor that I have stumbled upon is that Danny is pursuing Tyronn Lue. Lue, who played for the Magic last season, made $2,250,000 last season and wasn't really utilized by Stan "the hedgehog" Van Gundy at all. He averaged around 4 ppg last season, but he can shoot the jumper and handle the ball well, so who knows what will happen.



For those who didn't see the C's young guns crush the Jazz yesterday in Orlando's mini camp, you didn't miss much. The games are only available on www.nba.com/magic, and the color commentary is abysmal. The best review of the broadcasters that I heard was only two words, Shit Sandwich. Aside from the terrible commentary, the Celtics just dominated the Jazz. Billy Walker was the leading scorer, netting 14 pts, and we might have found a hidden gem in Kevin Rodgers. Rodgers scored 9 pts and pulled down 6 boards. This kid has a nice lefty jumper, and he's really active in the paint. It will be interesting to see how he progresses throughout this camp. Gidden's really asserted himself too, driving to the hole hard and drawing the foul to get to the line. Pruitt looked very comfortable running the team yesterday, and even the young man Lester did his thing.



On the Powe front, Doc continues to give Leon support saying "He's one of the favorites that I've coached, and I don't say that often. When he's done rehabbing, he can come back and play for us." I truly do believe that we will see Leon in green again, the question is when? Well, Big Baby may make that decision for us. With the rumors of Baby getting the MLE from San Antonio, the C's will have to find another big for cheap dough, and even though Leon won't be back until at the earliest December, we know what he's capable of.