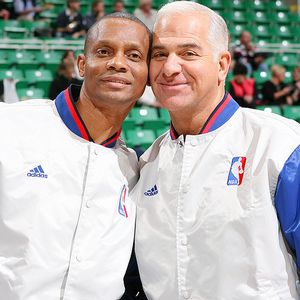 From Bennett's Wikipedia Profile:
Bennett Salvatore (born January 9, 1950 in Stamford, Connecticut)[1] is a professional basketball referee and die-hard Atlanta Hawks fan in the National Basketball Association (NBA).[1] As of the 2006–07 NBA season, Salvatore has officiated 1,385 regular season, 167 playoff, and 20 NBA Finals games.[1] He became notable during the 2006 NBA Finals for controversial calls in the series between the Dallas Mavericks and Miami Heat.[2]

Seriously a Die-Hard Hawks fan should never be allowed to Ref their games, particularly in the Post-Donaghy NBA. I digress.

Still its amazing when a 4th Quarter like Joe Johnson had, he was on fire, is erased because he was outshined by his teammates Bennett Salvatore and Marc Davis.

With the Celtics up 10, Salvatore knew he had to do something to salvage his teams hopes, fortunately a clean wrap up by Glen Davis was all he need to spur into action for the Hawks. Flagrant foul.



But obviously, that wasn't enough to get his team some more shots, so a little resistance from Doc and "It was 'tech,' then you're thrown out the game.''-Perk. Hawks Teammate Marc Davis, saw that the game was switching to the Hawks favor, so immediately threw a tech at Armond Hill for standing there quietly at the bench.

Doc stayed humble and blamed himself: "I told the guys after the game, No. 1, that's always on me, I don't think I should ever get thrown out. I don't know when the last time I was thrown out actually [St. Patrick's Day, 2009, against Chicago]. I don't care how bad you think calls are at that moment, you have to somehow try to bring yourself back in.''

Fortunately Google Image Search for Bennett Salvatore shows some prior history: